Green n' Trendy Buenos Aires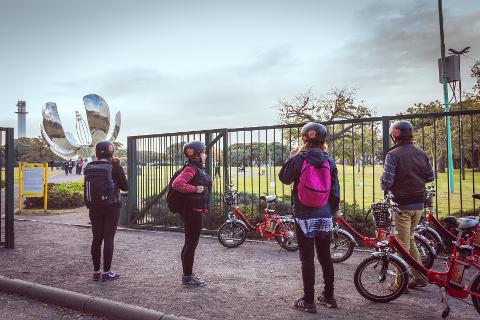 Kesto: 3 Tunnit (noin)
Paikka: CABA, Buenos Aires
Tuotekoodi: GTBA
Book Now
Nos encontraremos en el barrio de Recoleta. Pasaremos por la Avenida Del Libertador, veremos la Universidad de Buenos Aires y la Floralis Genérica, conociendo importantes sitios de historia argentina y sus personajes que hicieron a principios del siglo pasado esta ciudad multicultural famosa en todo el mundo. Sobre bicisendas, entraremos en el barrio más grande de la ciudad: Palermo. Uno de los parques más importantes de Buenos Aires, y pedaleando a través de ellos disfrutaremos del aire fresco de los bosques de Palermo. Allí encontraremos una pequeña parte de Japón en medio de la ciudad: El jardín japonés. También la historia que involucra el barrio, un magnífico rosedal, y lugares que representa la calidad de los criadores de caballos y los deportistas nacionales: el Hipódromo de Palermo y el Campo Argentino de Polo. El tour continúa hacia Palermo Soho, donde muchos diseñadores instalaron sus estudios allí y los pubs y restaurantes modernos los siguieron, dando a esta parte del barrio una nueva identidad. Por último, en nuestro camino de regreso a la Recoleta, pasaremos por palacios de principios del siglo XX, hoy convertidos en embajadas, que muestran el esplendor de aquellos años. Nuestro paseo guiado en bicis electricas ha llegado a su fin, pero nuestra recomendación ya aquí es que visiten uno de los cementerios más famosos del mundo: el cementerio de la Recoleta.

__________________________________________________________________________

We are going to meet in Recoleta. We' ll get through Del Libertador Avenue, visiting Buenos Aires´ University and Floralis Generica, knowing important sites of Argentinean History and characters that made at the beginning of the last century this multicultural city famous all around the world. Over bike paths, we will get into the biggest neighborhood of the city: Palermo. One of the most important parks in Buenos Aires, and pedaling through them we will enjoy the fresh air of Palermo Woods. There, we will find a little part of Japan in the middle of the city: The Japanese garden. Also, the History which involves the neighborhood, a magnificent rose garden, and places which represent the quality of horse breeders and sports players: The race track of Hipódromo de Palermo and the polo field Campo Argentino de Polo. The tour continues for the Trendy area of Palermo, The Soho, where lots of designers settled their showrooms and studios and modern pubs and restaurants followed them, giving to this part of Palermo a new identity. Finally, on our way back to Recoleta, we' ll pass through mansions of the beginning of XX century, nowadays converted into Embassies, which show the splendor of theses years. The cycling tour did come to an end, but being here, we strongly encourage you to get into one of the most famous cemeteries in the world: the Recoleta Cemetery.