Tigre' s Delta Row & Ride- *Lunch included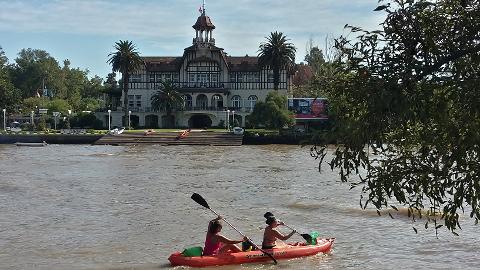 Varaktighet: 8 Timmar (approx.)
Plats: CABA, Buenos Aires
Produktkod: TRR
Book Now
Una increíble experiencia de día completo visitando el único delta del mundo que continúa creciendo. Desde nuestro meeting point, en Recoleta, desde donde emprenderemos un maravilloso paseo de Av. Del Libertador, disfrutando del entorno natural de los bosques de Palermo, hasta llegar a la Estación Lisandro de La Torre, en la que tomaremos el tren hacia Tigre realizando un trayecto de 40 minutos. Una vez allí nos dirigiremos al Paseo Victorica, al Museo de Arte de Tigre (MAT), realizando luego un paseo en kayaks, remando hasta un recreo para almorzar en una isla a 20 minutos de la costa. Al regresar, visitaremos el Puerto de Frutos. Regreso a Buenos Aires.
__________________________________________________________________________
An amazing full-day experience visiting the world's only delta that continues to grow. From our meeting point, in Recoleta. We will ready our bikes and cruise the bike lane of Av. Del Libertador while enjoying the natural surroundings of Palermo woods, until arriving at the train station Lisandro de La Torre. There we will take a relaxing train ride towards Tigre for 40 minutes. Once there, we will go to the Paseo Victorica, and then to the Tigre Museum of Art (Mat). We will then paddle kayaks to an island 20 minutes from the coast, and have a lunch break there. Upon returning, we will visit the Port of Fruits. Return to Buenos Aires city.